5 Beers You Will Fall In Love With
Posted on November 30, 2016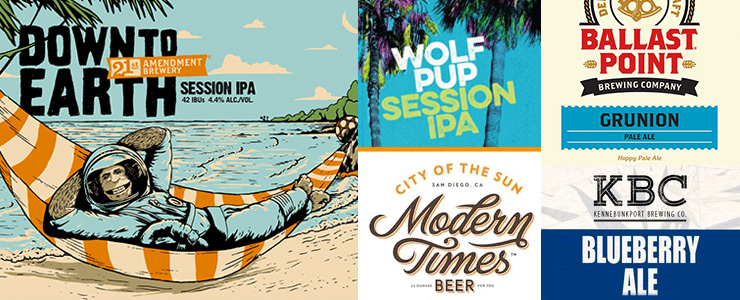 I have tried hundreds of beers along the course and I decided to make a list of the top five beers I have ever tried to this day.
I have no intentions with this post other than to help people who are starting out in the world of craft beers and want to go straight to the good stuff, save some money and years of beer tasting.
My list includes mostly light or session IPAs and pale ales. None of the beers on this list are super bitter and they don't leave a strong after taste after a sip. This makes them enjoyable and easy to drink.
1. Down to Earth
Brewery: 21st Amendment Brewery
Brewery Location: San Francisco, CA
Style: IPA - India Session Ale
ABV: 4.4%
Bitterness: 42 IBU
This is my absolute favorite - it's a masterpiece! I discovered this beer in a restaurant and they had a very limited beer selection on the menu. There were two options to choose from and I picked Down to Earth and fell in love with it. Great aroma and unique taste. Very easy to drink!
2. Wolf Pup Session IPA
Brewery: Golden Road Brewing
Brewery Location: Los Angeles, CA
Style: IPA - India Session Ale
ABV: 4.5%
Bitterness: 50 IBU
This beer has a very unique aromatic tropical and citrus taste. It also smells awesome! It is very hoppy and refreshing. Drink it extremely cold on a hot summer night.
3. Grunion Pale Ale
Brewery: Ballast Point Brewing
Brewery Location: San Diego, CA
Style: Pale Ale
ABV: 5.5%
Bitterness: 50 IBU
I'm bias to talk about Ballast Point Brewing as I am a big fan. Almost anything you try from this brewery it's guaranteed to like it. I have tried many by Ballast Point and the Grunion Pale Ale is the one that I like the most. I think it's the perfect combination of hops.
4. KBC Blueberry Ale
Brewery: Kennebunkport Brewing Co.
Brewery Location: Kennebunk, ME
Style: Pale Wheat Ale
ABV: 4.7%
I'm not a big fan of the fruity type of beers, but this one has defnitely caught my attention. Its prominent blueberry flavor makes the beer have a sweet and crisp taste to it. Whether you drink it at a party or on a Monday evening at home, this beer is perfect for any occasion.
5. City of the Sun
Brewery: Modern Times Beer
Brewery Location: San Diego, CA
Style: IPA
ABV: 7.6%
Bitterness: 85 IBUs
This beer is only available during winter. It has a delicious and interesting flavor with some fruity hop character to it. It is the only one that I don't consider light in list - a true IPA. It is more on the bitter side, so this should not be the first IPA you try.
I will be updating this list as I find other ones better than the ones above. What are your top 5 beers? If you think I'm missing an awesome tasting beer let me know which one it is and I will definitely try it out!